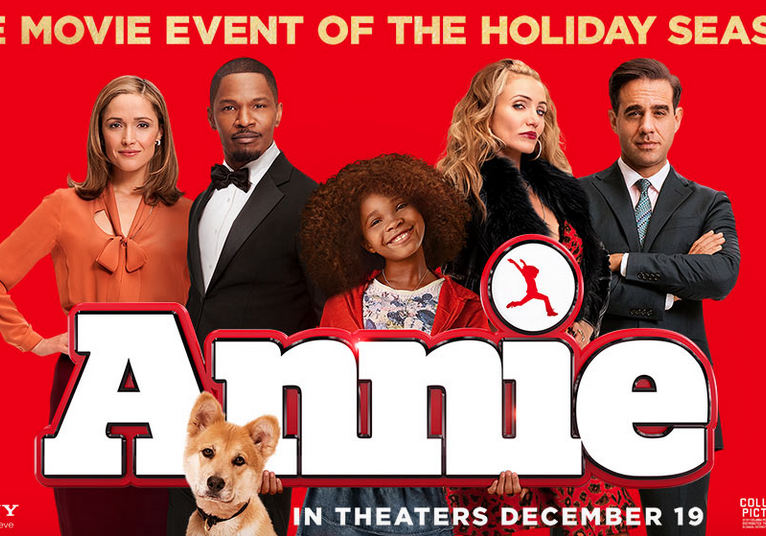 You should see the new Annie movie. 
I grew up with the 1982 movie version – I used to listen to the soundtrack over and over on my Fisher Price record player, and I have remained devoted to all things Annie ever since. I played an orphan when my high school staged the musical (see compromising archival photo below), and I saw the musical on Broadway.
I'm such a nerd about Annie that I didn't think it was in need of a re-make. Well, I was wrong. This new version succeeds in many ways, primarily in updating the plot to portray today's foster care system.
That's actually what got me to overcome my resistance and buy a ticket. In previews, I heard that the words of "It's a Hard-Knock Life" had been changed from "No one cares for you a smidge, when you're in an orphanage" to "No one cares for you a bit, when you are a foster kid." And when someone in the film addresses the title character as "Little Orphan Annie," she curtly corrects him: "Foster kid."
Little Orphan Annie began as a comic strip in the 1920s, and the musical based on that character portrayed life during the Depression, when orphanages were common. Today the term "orphanage" is archaic: instead, we have "foster placements" and "group homes."
Indeed, in the 2014 rendition of Annie, Miss Hannigan is a washed-up pop singer who has taken in five foster kids to help pay the rent on her Harlem apartment. At one point, she says to Annie, "The only reason you're here is because I get $157 a week." This isn't a dramatic device used to make Miss Hannigan more villainous: anyone familiar with the foster system will tell you that way too many foster parents are in it for the money, not because they want to help a child succeed in life.
In San Francisco, the Human Services Agency (HSA) has recently tightened its requirements for foster placements, in hopes of weeding out "Miss Hannigan" types. The problem is that they have gone from having several hundred foster families to barely a hundred, and their budget for recruitment of new placements is $0.
The most obvious change in the 2014 version of Annie is that the title character is black (played by the adorable and talented Quvenzhane Wallis). While data show that half of the 400,000 children in foster care in the United States in 2012 were white, African American and Native American children "represent double the percentage of the foster care population than they do in the general child population." In San Francisco, the statistics are even more exaggerated. In 2013, 60% of the 1000 children in foster care were black, even though in the 2010 census only only 5.8% of San Franciscans are black. Another thing the movie highlights is the nomadic experience of a child in foster care and the impact it can have. At one point, we see a list of all the placements Annie and her friends have been in, and she references being an expert at bouncing from home to home. I don't want to spoil a major plot point, but I will say that there are some gaps in Annie's education as a result of these twists and turns. With every change in placement, a child most likely has to change schools, and experts estimate that every change causes a child to lose six months educationally. Children can easily end up in a half dozen different placements every year, which wreaks havoc on their education.
One thing this movie/musical has done well in all of its versions is revealing Annie's inner longing for her birth parents. Annie has a note and half of a locket that her parents left when they abandoned her, which is all she knows about her past. The other four girls in Miss Hannigan's care are about her age (Annie is 10), and they all share her wistfulness about their parents. However, Pepper, Annie's surly counterpart, speaks to the dual unlikelihood of being reunited with their birth parents or getting adopted at their age. "She's never gonna find her family – none of us are!" she yells. "I'm almost 13. No one wants a teenager."
It is true that a child's likelihood of adoption starts to decrease dramatically after age 8, and in the teen years it plummets. (Read more here.) Nevertheless, that longing never goes away, and despite finding a loving home with Will Stacks (the new Oliver Warbucks, played by Jamie Foxx), Annie will always feel conflicted between loyalty to her biological parents and her adoptive ones, just like almost every child who is fostered or adopted.
But this version of Annie, more than any of the others, really shines a light on the lost inner child in all of the characters. In the musical, Daddy Warbucks sings a song "Something Was Missing," which was not included in the 1982 movie. In it he speaks of his wealth and influence, but no one to share it with:
"Who would need me for me? Need me for me alone?
The world was my oyster, but where was the pearl?
Who knew I would find it in one little girl?
Yes, something was missing, but dreams do come true
That someone was no one but you."
Stacks, a modern-day cell phone mogul, faces the same struggle (echoed by the musical motif of "Something Was Missing," a nice shout out to us Annie aficionados). Though he lives in the perfect penthouse, he can't name a single person whom he loves or feels loved by. Grace Farrell, Stacks' personal assistant (played perfectly by Rose Byrne), overshares with Annie about working too much and not having many friends. Even Miss Hannigan (Cameron Diaz) turns out to be a good gal – her bitterness and sarcasm melt away she is offered a genuine word of praise, and she ends up saving the day.
It's all an illustration that, regardless of the advantages or disadvantages we have in life, we all long for the same things: to share our lives with people who love us for who we are, who will tell us what is unique and talented and lovable about ourselves. So if there's one reason you should see this movie, it's to find yourself in one of these characters, and to realize that the differences between you and Little Foster Kid Annie aren't so significant after all.