It's hard to live in the Bay Area these days without becoming a de facto fan of the Golden State Warriors.
Whereas baseball allegiances are split between the Giants and the A's, there is only one professional basketball team here, and they are really, really good. It is unusual to go through a day here without seeing several people walk by on the sidewalk decked out in blue and gold, and every time you turn around you see a Steph Curry jersey. (I myself have one hanging in my closet.)
Less than two months into Braid's first year, we had a great conversation with a community representative for the Warriors about how they could support Braid and vice versa. Our original vision for Braid was to be based in the Mission Bay neighborhood, where the Warriors are hoping to build their new stadium in the next few years, so they are especially interested in nonprofits in that part of the city. The Warriors have also been active supporters of President Obama's mentoring initiative "My Brother's Keeper" and other youth programs.
For the past two years, the Warriors have donated great prizes for the holiday party we help sponsor with Human Services Agency for foster families. (This year's Andre Iguodala bobbleheads were an especially big hit.) Last year, Chris and I got to go to Warriors headquarters in Oakland to pick up the prizes.
That's when I first started to get bitten by the Warriors bug.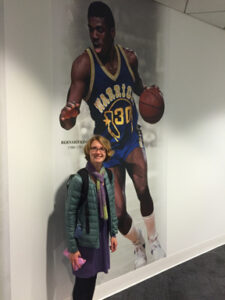 To get to the reception desk, we had to walk down a looooooooong hallway lined with bigger-than-life-sized photos of legendary Warriors players and coaches. Along the way, we passed a door that was ajar. Hearing the squeak of sneakers on the other side, we realized that it was the practice gym and poked our heads in to take a quick look. At the time, I wasn't familiar with all the members of the team, so I have no idea who we saw. Trust me, if there's a moment my slightly-older Warriors-fan self could request as a do-over, it would be that one…
After that, I started to pay more attention when the Warriors were on TV. Probably not coincidentally, this happened to be around the time when Chris and I had just started sitting in on HSA's course for prospective foster families, so we were pretty immersed in learning about childhood trauma. After a long day of learning about the painful things innocent foster children have endured and how it affects them for the rest of their lives (not to mention wrestling with the demons from my own journey that are triggered by those stories), I'd come home and flip on the television and watch the Warriors execute a perfect alley-oop dunk, and I was reminded of what it means to be whole and playful and light-hearted.
When we had built the foundations of our mentoring program and trained our first dozen mentors, but still couldn't get a youth referral from any of our partner agencies for many weeks, I would watch Steph Curry sink a three pointer from the other end of the court to beat the buzzer, and I was reminded that sometimes the impossible actually happens.
During three very frustrated weeks when we thought our new mentors would be sidelined because of complicated regulations around having them fingerprinted, I watched the Warriors come from behind in the fourth quarter to win a playoff game, and I was reminded that sometimes we play our best when we're backed into a corner.
When we started to realize how many of the mentors we recruited would drop out at some point in the process, even after we had invested so much time in cultivating and training them, I watched every member of the team step up to help the Warriors win the 2015 NBA championship, and I was reminded that every member of a community is vitally important, even if they don't end up with a starring role.
Am I a fair-weather fan? Yes, and gladly so.
When you're building a startup of any kind, especially one that centers around the heartache and trauma of the foster care system, the weather forecast can be pretty cloudy most days. But whatever loss I have encountered in my day-to-day life, I can almost always count on watching the Warriors get a win. At the very least, I get to watch the Splash Brothers sink some amazing three-pointers.
My yoga teacher led a meditation during her class earlier this week, inviting us to surrender everything but joy during the time of the meditation. I realized that that's what Warriors games are for me: no matter what else is going on in my world or in my soul, for those two hours I get to just be immersed in joy – and camaraderie and skill and fun. If I'm lucky, the game goes into overtime…
Tonight the Warriors are playing their last game of the regular season. If they win, they'll set the record for most wins in a season. But from where I sit, every game has felt like a win. A big one.
This basketball team has revived my weary spirits more times than I could count. No matter what happens tonight, I will be cheering my heart out, and I know I won't be disappointed.
Go Dubs! And thank you.